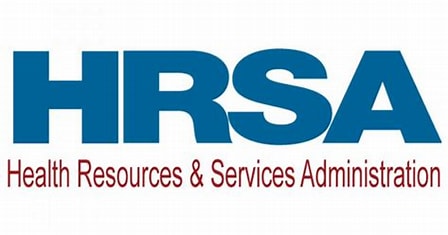 Health Resources & Services Administration at CT Renaissance
HRSA programs provide equitable health care to people who are geographically isolated and economically or medically vulnerable. This includes programs that deliver health services to people with HIV, pregnant people, mothers and their families, those with low incomes, residents of rural areas, American Indians and Alaska Natives, and those otherwise unable to access high-quality health care. HRSA programs also support health infrastructure, including through training of health professionals and distributing them to areas where they are needed most, providing financial support to health care providers, and advancing telehealth.
Partnering with HRSA, Connecticut Renaissance offers exciting opportunities for healthcare professionals. Our Bridgeport and Waterbury Clinics have earned NHSC approval, indicating they are strategically located in Health Professional Shortage Areas (HPSAs) and maintain high client care standards. Our residential treatment programs actively participate in similar initiatives such as STAR and Nursing Corps.
Qualified individuals can achieve student loan forgiveness by working at select Connecticut Renaissance locations for a specified period. Join us today and make a meaningful impact on underserved communities while relieving your student loan burden. A full list of CT Renaissance programs that are eligible can be found below:
Participating Programs: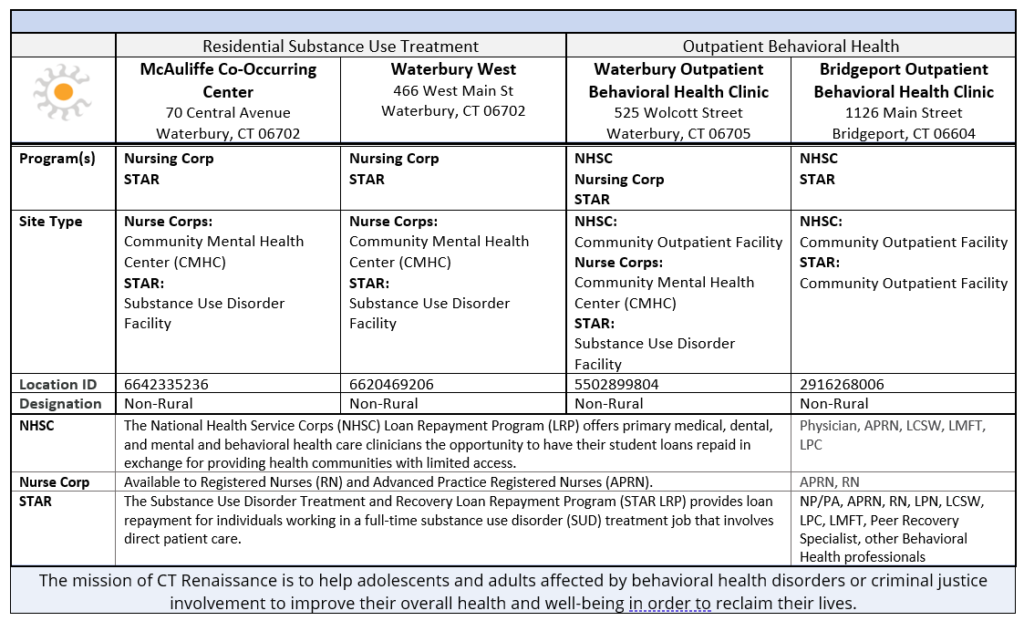 NHSC Loan Repayment Program – awards up to $50,000 in exchange for a two-year commitment to provide primary medical, dental, or mental/behavioral health care at approved sites in high-need, underserved areas. HRSA has removed the two-tier scoring, allowing all applicants to receive up to $50,000 in awards regardless of HPSA score. NHSC LRP recipients are eligible to extend their service and potentially pay off all of their educational debt with continuation contracts.
Substance Use Disorder Treatment and Recovery Loan Repayment Program (STAR) – provides up to $250,000 for eligible educational loans with a six-year full-time service commitment from a wide range of healthcare disciplines employed at substance use treatment facilities.
Nursing Corps – provides 60% of total outstanding qualifying educational loan balance incurred while pursuing a nursing education for a 2-year service commitment. at an eligible health care facility with a critical shortage of nurses in a primary care or mental Health Professional Shortage Area. The total number of years of service that scholars fulfill will depend on the number of years of scholarship support received. Qualifying participants may receive an additional 25% of their original loan balance for an optional third year of service.